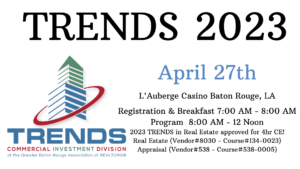 The TRENDS Seminar began in 1988 as a joint project of the Commercial & Investment Division (CID) of the Greater Baton Rouge Association of REALTORS® and Louisiana State University's Real Estate Research Institute.
The goal was quite simply to provide a variety of real estate industry professionals an opportunity to come together and examine the state of the industry in our area, and help focus industry professionals on emerging trends, whatever their specialty.
TRENDS has become and annual event, that continues to provide a critical examination and analysis of what's going on in the marketplace — with an eye on what's coming.
Please follow and like us: