Each year the GBRAR Commercial Investment Division bestows two awards:  The CID REALTOR of the Year and the CID Affiliate of the Year.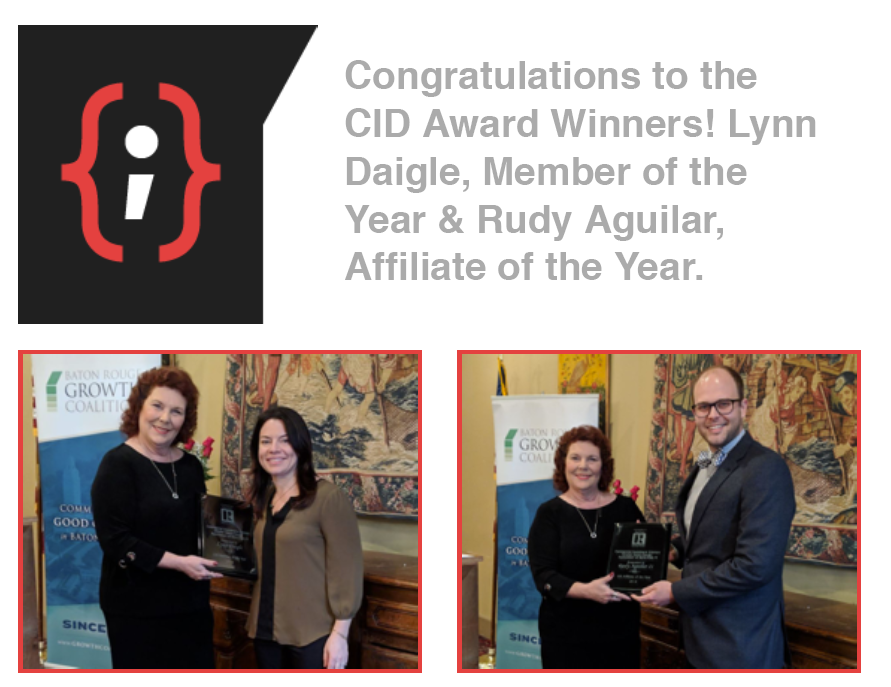 The GBRAR Commercial Investment Division REALTOR of the Year Award is the highest honor CID bestows each year. The recipient is chosen based on professionalism and activity as a REALTOR. The recipient is also chosen for his or her civic activity, business accomplishments, high standards, and REALTOR spirit.
The GBRAR Commercial Investment Division Affiliate of the Year award is presented to an individual who has shown outstanding dedication and support of CID in the past year. This is also someone who expresses REALTOR® spirit, a cooperative and helpful attitude toward REALTORS® and who has accomplishments outside of the REALTOR® organization.
| | | |
| --- | --- | --- |
| | CID REALTOR® of YEAR | CID Affiliate or Partner of Year |
| 2019 | | |
| 2018 | Lynn Daigle | Rudy Aguilar III |
| 2017 | Dottie Tarleton | Gary Littlefield |
| 2016 | Wade Greene | Clay Petersen |
| 2015 | Jonathan Walker | Jennifer Boggs |
| 2014 | Drew Pearson | Cook, Moore & Associates |
| 2013 | Branden Barker | Assurance Mortgage |
| 2012 | Ben Graham | Sean McDonald |
| 2010 | Branden Barker | Sam Bacot |
| 2009 | Ben Stalter | Todd Pevey |
| 2008 | Marc Barker | MAPP Construction |
| 2007 | Thomas W. Cook | Jim Purgerson |
| 2006 | D. Wesley Moore | Sam Bacot |
| 2005 | J. Karl Landreneau | Jamie Edwards |
| 2004 | H. Ben Johnson | Charles Colvin |
| 2003 | Jonann Stutzman | Carlos Slawson |
| 2002 | Larry Dietz | Brian Andrews |
| 2001 | Gary D. Louis | Brian Andrews |