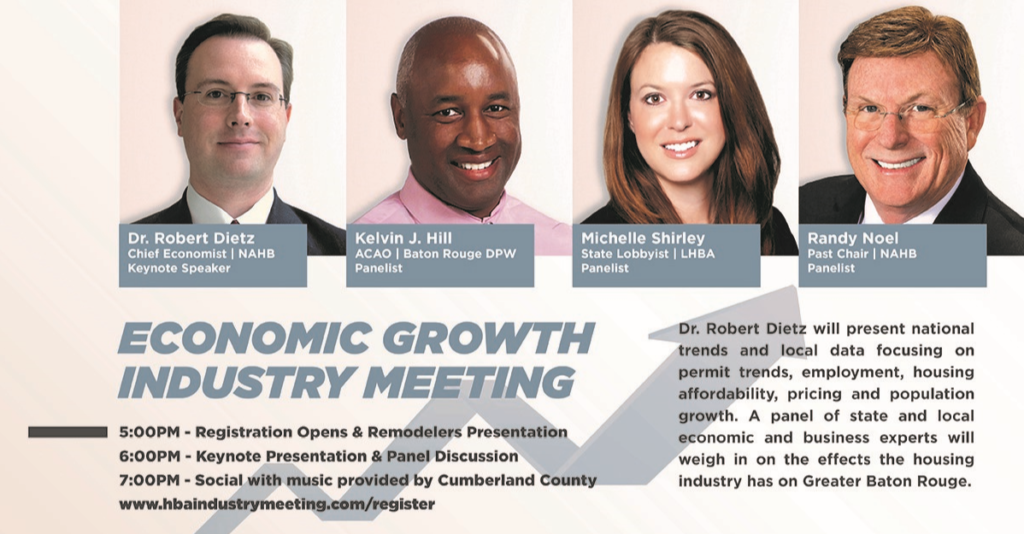 Good afternoon,
On behalf of the Home Builders Association of Greater Baton Rouge, we would like to cordially invite you to attend our Economic Growth Industry Meeting; a presentation that will focus on local data points for permit trends, employment, housing affordability, pricing, and population growth. A promo card is attached for your reference.
The National Association of Home Builders' Chief Economist, Dr. Robert Dietz, will be our keynote speaker, and joining him for our panel discussion will be:
Michelle Shirley, State Lobbyist for the Louisiana Home Builders Association
Randy Noel, NAHB's Immediate Past Chairman of the Board
Kelvin Hill, Assistant Chief Administrative Officer for Baton Rouge Department of Public Works
The event is open to the public and will take place Thursday, October 17 at the Baton Rouge Marriott, presentation 6PM – 7PM. For more information and to register please click here.
We look forward to sharing with you our plan to continue providing the necessary resources for safe, affordable, and quality building in Greater Baton Rouge.
Please follow and like us: