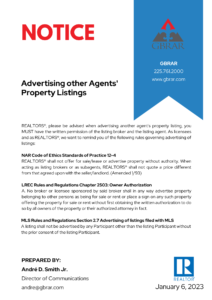 F.A.Q. [January 9, 2023]
What advertising does IDX allow?
The IDX program operates as a permission pool for brokers to grant permission for listings to be advertised on compliant IDX displays consistent with the rules outlined in Section 18 of the MLS Rules. The permission granted through IDX does not extend to other forms of advertisement. Ex. display ads, Include in personal newsletters, YouTube video tours, etc.
Who do I need permission from to post other agent's listings?
You need permission from the list agent's broker.
For example, if you are creating a video and the video features listings from other brokers, then you will need to have permission from each of the brokers whose listings are featured to include their listings.
What is required in order to advertise online?
The LREC sets advertising requirements. Please review the LREC Rules and Regulations for the requirements for your specific type of advertisement.
Additional Resources:
Please follow and like us: