As the rental market continues accelerating, GBRAR members can greatly benefit from a comprehensive suite to manage rentals efficiently. When working with leases, every renter represents a potential buyer. RentSpree, a free tool for GBRAR members, lets you screen tenants instantly in just a few clicks and manage your entire rental process seamlessly.
When creating a listing within Paragon, you can generate a link to a secure online application that can be completed in minutes. Renters can access the application in different ways: directly via an ApplyLink™, or through an email or text message invitation. This integration saves time and costs, as there are no fees for using RentSpree – and the process can be kicked off without ever needing to leave the MLS.
The screening package provides crucial information on applicants, including a rental application, credit report, background check and eviction report. Renters pay only a $30 fee to apply to your listing; once they initiate the screening, you can track their progress every step of the way. Even better, credit reports through RentSpree only require a soft pull, with no damage to applicants' scores and applicants can use their reports to apply for free to other listings if they are denied.
You can also purchase a Rent Estimate Report from RentSpree to assist in determining the optimum listing price for a rental. To get an even more detailed picture on an applicant, RentSpree PRO is also available to check references and income verification documents in one step.
This screening service is the most reviewed rental screening software on Google with a stellar 4.7 out of 5 rating based on 1,000+ reviews.  GBRAR and RentSpree's goal is to provide a user-friendly experience to agents, renters, property managers and landlords.
Opt in for screening the next time you add a rental into Paragon, or you can always learn more at http://rentspree.com/gbrar.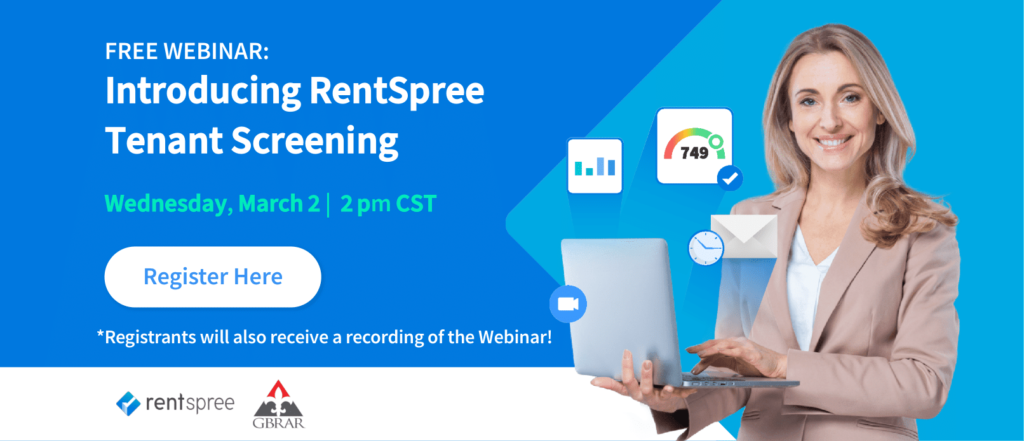 RentSpree FAQ
1. How does it work?
a. Enter an applicant's email address to send them an application invite. Applicants will then input their information, authorize screening, and submit back to you. You can then print or save applicant reports, share with a client, etc.
2. What is the cost?
a. There is no cost for GBRAR members. Applicants pay a screening fee to apply.
b. Applicants pay $30 for the credit, criminal, and eviction reports.
c. The rental application is free of charge (and can be requested separately or along with the screening reports).
3. What do I receive from RentSpree?
a. Full Credit report and score
b. Criminal background check
c. 50-state eviction history
d. Completed rental application
4. How do I screen a tenant?
a. Choose "Yes" on RentSpree Online Application when adding a lease listing into Paragon.
b. You will receive an email from support@rentspree.com with the ApplyLink™.
c. Email the ApplyLink™ to applicants or copy and paste into your listings on your brokerage website or social media.
d. You will receive an email notification once an application is submitted, and you can easily track each application's status via the RentSpree dashboard.
5. How long does it take to get a report back?
a. Once submitted by an applicant, all reports are available instantaneously. Members will receive an email notification upon submission
6. What if I need help?
a. http://support.rentspree.com has answers to most common questions
b. RentSpree can be reached M-F 9am-7pm CST at 323-515-7757
c. Email for support at support@rentspree.com
d. RentSpree has live chat on its site during business hours.
e. You can visit https://www.rentspree.com/gbrar to schedule a 1-1 training session with staff
7. Where can I find instructional videos?
a. What applicants see when they apply: https://www.youtube.com/watch?v=6SvP7dQ_lEo
b. How to share a RentSpree report: https://www.youtube.com/watch?v=_HTIZqgggVM
c. How to use our digital signatures feature: https://www.youtube.com/watch?v=VPug01WADsI
Please follow and like us: