SUPRA eKEY Information
SUPRA eKEY Compatible Devices
Please note you must have a compatible device to have an eKEY. You can view a list of SUPRA Compatible devices. Internet data service is also required for the eKEY application to function.
How do I get an eKEY?
Supra eKEYS are issued at the GBRAR office (14101 Perkins Rd. Baton Rouge, LA 70810) or over the phone 225.761.2000 Monday-Friday between 9 am and 4 pm. You will be required to download the eKey app to your phone. Please bring a credit or debit card to put on file with Supra for payments. User manuals are available online at www.supraekey.com under Training Resources.
What are the eKEY Fees?
GBRAR charges a $50 issuance fee plus a prorated fee on all new SUPRA eKeys. eKeys are billed monthly, at the rate of $12.50 + tax for the Basic service or $20.35 + tax for the Professional service. All fees are paid to SUPRA. Prices are subject to change per SUPRA. These fees are not part of your membership fees paid to GBRAR. eKEY fees are drawn monthly from the credit card account of your choice.
I have changed phones. How do I move my eKEY to my new phone?
First you will need to install the "eKEY" application on the new device.
iPhone install from the App Store
Android install from the Google Play Store
Windows app is not currently available
Second, you will need to get a new "AUTHORIZATION CODE" for the new device.
Or scan the QR code here: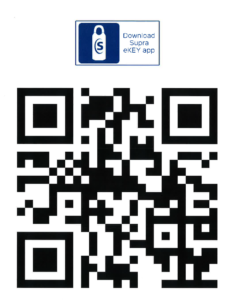 Contact Supra Support at 1-877-699-6787 from 7:00 am to 9:00 pm CST and request an AUTH CODE
Login to SupraWeb 24/7 at http://supraweb.suprakim.com
Contact GBRAR between 9:00 am to 4:00 pm CST and request an Authorization Code.
How do I cancel my eKEY service?
Please call Supra at 1-877-699-6787. Supra will be able to cancel your lease over the phone. Please make sure you take care of any outstanding balances with Supra at 877-699-6787 option 2. You will be asked for your eKEY serial number and pin code or your MLS ID number which will be the number 8702 + the numbers in your B-number. So if your B-Number is B12345, your Supra Key ID will be "870212345"
Where will my eKEY work?
East Baton Rouge
West Baton Rouge
Ascension
Livingston
East Feliciana
West Feliciana
St. Helena
Iberville
Pt. Coupee
Jefferson
Orleans
St. Tammany
St. John
St. James
St. Charles
Plaquemines
St. Bernard
Tangipahoa
Washington
How do I get access to other areas?
Please call the board for the area you wish to access and see if they allow our members access to their lockboxes.
Please ask for an update code. This will be needed after your request has been processed by the other board.
Contact the board you are seeking access to and see if they have processed your request.
Go to Esync on your eKEY. Click Update Key. Your eKEY is now programmed for your requested area.
Note: Once an area has been added to your Supra key it will remain programmed in the device for future showings
---
SUPRA Lockbox Information
What is a Lockbox?
A lockbox is a device affixed to a property containing keys to gain access to the property being marketed by a REALTOR®. Other REALTORS® are authorized under certain conditions to open these lockboxes under terms specified by the listing broker. It is only accessible through the use of an ActiveKEY or eKEY.
How do I get a Lockbox?
SUPRA iBOX BT LE Lockboxes are available during regular business hours at the GBRAR office (14101 Perkins Rd. Baton Rouge, LA 70810). New lockboxes are priced at $99 each plus tax. Periodically the GBRAR may have an inventory of used lockboxes which are available at a price of $75 plus tax.
Reporting a Defective Lockbox Stuck on a Home
Every once in a while, a lockbox may become defective or not function properly. If you have a lockbox that is stuck on a property and needs to be removed, please report the defective lockbox.
Lockbox Transfers:
Lockboxes may be transferred from one member to another within GBRAR. Please complete and return a Lockbox Transfer Form to transfer your boxes to a new owner. Please call GBRAR at 225-761-2000 to verify receipt of your transfer request.
Lockbox Buy-back:
GBRAR will buy back used lockboxes in good working condition. Members who sell lockboxes back to GBRAR will NOT have to complete a Lockbox Transfer Form. Simply return your used boxes to the front desk at the GBRAR office. Within 2 weeks of the return, GBRAR will mail a check for $50 for each useable lockbox owned by the individual that has returned them.
Report a Defective Lockbox

Every once in a while, a lockbox may become defective or not function properly.  If you have a lockbox that is stuck on a property and needs to be removed, please
report the defective lockbox.
---
---
Co-op a Key from Another Association
Do you already have a Supra Key issued by another REALTOR® Association in Louisiana and need to show property in the Greater Baton Rouge area?  You can "co-op" your existing key so that it will be able to open GBRAR lockboxes.  Click here to request a co-op.
GBRAR and NOMAR/GSREIN have an automatic key co-op in place. This means that keys issued by either association will be able to open lockboxes from both associations. Agents with key from GBRAR do not need to request a co-op to open NOMAR lockboxes and vice versa!
---
SUPRA Technical Support
SUPRA Tech Support number is 1-877-699-6787.
7 Days a week (7 AM to 9 PM CST)
Click here to go to the SUPRA Website.