What is RPAC, anyway?
Since 1969, the REALTORS® Political Action Committee (RPAC) has promoted the election of pro-REALTOR® candidates across the United States. The purpose of RPAC is clear: REALTORS® raise and spend money to elect candidates who understand and support their interests.
The money to accomplish this comes from voluntary contributions made by REALTORS®. These are not members' dues; this is money given freely by REALTORS® in recognition of how important campaign fundraising is to the political process. RPAC doesn't buy votes. RPAC enables REALTORS® to support candidates that support the issues that are important to their profession and livelihood.
Okay, so what's LARPAC?
The Louisiana REALTORS® Political Action Committee serves as our memberships' voice in the political arena. LARPAC is an autonomous, voluntary, non-profit, unincorporated team of local, state and national REALTORS®. LARPAC is not affiliated with any political party, and is not a branch or subsidiary of any national or other political committee, but abides by the National Association of REALTORS® cooperative agreement.
Through LARPAC contributions, GBRAR members fund the efforts to support candidates and issues that help protect the real estate industry. These contributions help us effectively communicate and influence lawmaking activities at the local, state and federal level.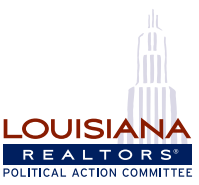 I'm not reading all of that! Break it down for me.
LARPAC and RPAC are both political action committees (PAC) that work to protect the real estate industry.
Donations to the PAC are voluntary and come from members of local REALTOR® associations like GBRAR.
A portion of your donation to LARPAC is sent to RPAC. This way your one contribution helps at the local, state, and federal levels.
LARPAC and RPAC have protected your business interests for decades. Your donation helps keep them successful.
LARPAC Did it With Your Support
While there are many issues we keep up with on your behalf, one of our top priorities includes keeping your taxes low to protect your investments and maintain a strong industry. We also monitor real estate regulations and laws by attending Louisiana Real Estate Commission (LREC) meetings and keeping watch over other agencies' regulatory proposals. The elected officials LARPAC supported financially and Louisiana REALTORS® partnered with accomplished several legislative wins over the years. We have compiled a list of key examples:


COVID-19 ESSENTIAL WORKER DESIGNATION

Allowed the real estate industry to continue to serve its clients during the stay-at-home orders because elected officials acknowledged your value to the community.



Simplified relationships between agents and clients by creating agency consumer disclosures for customers and by clarifying their roles in transactions.



DEFENDING LANDLORD RIGHTS

Continually protects the rights of property owners by defeating attempts to extend the eviction notice period and attempts to seal eviction records.



INDEPENDENT CONTRACTOR STATUS

Created a specific real estate section in the state's independent contractor law to provide tax, liability and other benefits to practitioners.



COMMERCIAL REAL ESTATE LIEN LAW

One of the first states to enact this kind of law, it protected commercial real estate agent commissions.



AFTER-THE-FACT REFERRAL FEES

Protected agents' commissions from third parties when no referral is made and protected real estate consumers from having benefits denied for using a specific agent.



STATEWIDE PROPERTY DISCLOSURE

Created a uniform statewide document to provide benefits to buyers and sellers and to require sellers to complete it.



REAL ESTATE TRANSFER TAXES & FEES PROHIBITED

A Constitutional Amendment was unanimously passed by the legislature and was overwhelmingly approved by voters (81%) to prohibit state and local governments from enacting real estate transfer taxes and fees*.

*Prohibited increase in Orleans Parish because of a previously-imposed fee.
Contributions are used for political purposes, are voluntary, & are not deductible for Federal income tax purposes. Any amounts indicated are merely guidelines & you may contribute more or less than the suggested amounts. Neither your membership nor your participation in Louisiana REALTORS® is conditioned directly or indirectly on contributing to LARPAC. You may refuse to contribute without reprisal. The following is sent to the National REALTORS® Political Action Committee (RPAC) to support federal candidates and is charged against your limits under 52 U.S. C. 30116: (1) 30%of all contributions of $1,000 or more made at any time; and (2) 30% of each contribution less than $1,000 until LARPAC meets its Federal Allocation Goal set by RPAC. LARPAC retains the following to support state and local issues and candidates: (1) 70% of contributions that are $1,000 or more; and (2) 100% of contributions of less than $1,000 after the RPAC Federal Allocation Goal is met.