It is the purpose of The GBRAR Ascension Council is to upgrade the professional standards among the Ascension Parish REALTORS® through on-going education and communication. In addition, they strive to give those REALTORS® a unified voice with the Greater Baton Rouge Association of REALTORS® and the local Ascension community.
By joining the Ascension Council of REALTORS® you can help make a stronger voice in the Ascension community. This organization helps you stay informed of the latest governmental issues and ordinances affecting real estate sales and private property rights in Ascension Parish.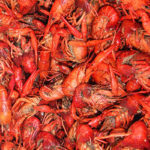 Each Spring, Join the Ascension Council of REALTORS® for their annual Crawfish Boil!

The Ascension Council Governing Board meets at FRANK's on Airline in Prairieville.
Join us at Nic's Bar in Gonzales for this year's holiday party.
[custom-facebook-feed id=AscensionRealtors layout=half num=5]