Upcoming OnLive Classes
Real Estate Ethics and REALTOR® Code of Ethics | 3 hr. Course
This course meets the standards for the 2021 NAR® Code of Ethics Requirement – Cycle Six. This course will review the history of the Code of Ethics as it relates to its origins, its influence on state licensing laws and its establishment of arbitration as the monetary dispute resolution process between REALTORS®. Finally, we will apply the REALTOR® Code of Ethics Articles to everyday real estate practices.
Virtual Real Estate | 2 hr. Course
Discover new ways to virtually communicate with clients and agents during a digital transaction. This course will identify the challenges associated with listing a property virtually and how to solve them. Upon completion of this course, the student will understand the process of taking a buyer through a virtual showing and how to solve the virtual problems that may arise. Finally, the student will know how to explain and prepare their clients for a virtual closing.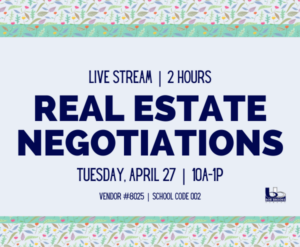 Real Estate Negotiations | 3 hr. Course
In this course, we will review the purpose of a negotiation by reviewing what is required from the client and the agent. We will discuss personal negotiating styles and how to recognize the style of a counterpart and what motivates them. Finally, we will uncover an array of tools, tips, and techniques to help master the art of a negotiation for the real estate transaction.
Fair Housing | 3 hr. Course
Upon completion of this course, the agent will understand the importance and history of Federal Fair Housing and be able to identify protected classes under the Fair Housing Law. This course will review the various Fair Housing Exemptions and discuss how the Department of Housing and Urban Development (HUD) enforces the Federal Fair Housing Act. Finally, we will explore previous Fair Housing violations and discuss ways to avoid these violations in the future.
---
Upcoming Paragon Shorts
Collab Center
Setting up New Prospects | Thursday, April 15 | 1 p.m. CT
Prospect Functionality | Thursday, April 15 | 2 p.m. CT
Listing Carts & Agent Picks | Friday, April 16 | 1 p.m. CT
Seller Side Setup | Friday, April 16 | 2 p.m. CT
Agent Preview | Monday, April 19 | 11 a.m. CT
Additional Functions Button | Monday, April 19 | 12 p.m. CT
Paragon Connect
Accessing Paragon Connect | Monday, April 19 | 1 p.m. CT
Access to Collab Center Contact Records | Monday, April 19 | 2 p.m. CT
Searches | Wednesday, April 21 | 11 a.m. CT
Buyer Details | Wednesday, April 21 | 12 p.m. CT
Seller Details | Wednesday, April 21 | 1 p.m. CT
---
Certification Classes
PRICING STRATEGIES: MASTERING THE CMA (PSA)
The Pricing Strategy Advisor (PSA) certification course gives you the knowledge base and skills needed to successfully complete a comparative marketing analysis (CMA) and to clearly communicate it to your client(s). It is specifically designed to help residential real estate agents and brokers:
employ best practices for pricing properties
choose appropriate comparables
prepare and present comparative marketing analyses (CMAs)
work with appraisers and read an appraisal report
guide clients through the anxieties and misconceptions they often have about home values
This course is the main requirement for the Pricing Strategy Advisor (PSA) certification and is an approved elective for the Accredited Buyer's Representative® (ABR®) designation and the Seller Representative Specialist (SRS) designation.
Register HERE for the Online course
NAR'S E-PRO® CERTIFICATION COURSE
The first part of NAR's e-PRO® certification provides high-level digital marketing theory, with practical suggestions for its consistent implementation. You will examine the modern consumer and discover how to capture and convert these prospects into clients. You will dive into an overall online marketing strategy that includes how to use content to engage consumers. In the second half of the course you will learn about the importance of data privacy and security as well as how to develop data privacy policies and procedures and fulfill legal responsibilities created by a data breach.
Register HERE for the online course
View all NAR Certification Courses
---
Tools and Training Resources
InfoSparks – Click HERE
HomeSnap – Click HERE
InstaNet Training Webinars – Click HERE
NAR C2EX – Click HERE
Paragon Live Training Webinars – Click HERE
RPR – Click HERE
Showing time resources – Click HERE
---
Online Education Schools
NAR Center for REALTOR® Development – www.onlinelearning.realtor
Burk Baker School of Real Estate & Appraising – burkbaker.com
Bob Brooks School of Real Estate – www.bobbrooks.com
Donaldson Educational Services – donaldsoneducation.com
The CE Shop – theceshop.com
OnCourse Learning – www.careerwebschool.com
Please follow and like us: