Register Now for June OnLive classes!!!
ESTATE PLANNING AND TAXES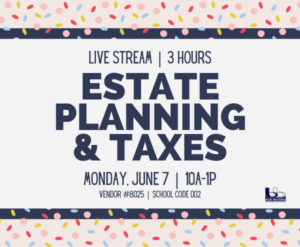 Upon completion of this course, the agent will gain an overview of tax issues and factors that influence older adult's decisions to buy or sell a home. This course will apply knowledge of how household composition impacts retirement plans and housing choices for older adults. We will discuss the advantages of a will and the pitfalls that can occur without one. Finally, we will review how the transfer of property works through a will, probate, or succession; and how to manage potential legal liabilities to avoid conflicts of interest in real estate transactions.
Register HERE
REAL ESTATE ETHICS AND REALTOR CODE OF ETHICS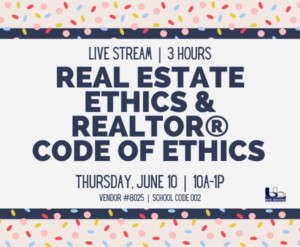 This course meets the standards for the 2021 NAR® Code of Ethics Requirement – Cycle Six. This course will review the history of the Code of Ethics as it relates to its origins, its influence on state licensing laws and its establishment of arbitration as the monetary dispute resolution process between REALTORS®. Finally, we will apply the REALTOR® Code of Ethics Articles to everyday real estate practices.
Register HERE
TALK NERDY TO ME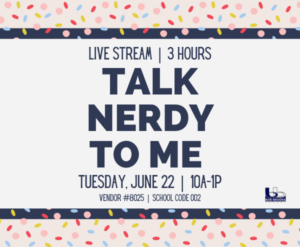 There are thousands of market forces at play in determining the value of a single piece of real estate. This course explores theories behind why the market reacts the way it does and why buyers and sellers make certain decisions. The agent will gain knowledge of how the rise and fall of interest rates can cause a drastic effect on home prices as well as home demand. This course will explore the tragedy of the commons in determining whether a decision is in the best interest of a single person or for the entire community. Finally, we will suggest strategies to help clients reach an agreement with their counterpart in a negotiation.
Register HERE
VIRTUAL REAL ESTATE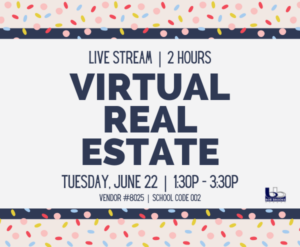 Discover new ways to virtually communicate with clients and agents during a digital transaction. This course will identify the challenges associated with listing a property virtually and how to solve them. Upon completion of this course, the student will understand the process of taking a buyer through a virtual showing and how to solve the virtual problems that may arise. Finally, the student will know how to explain and prepare their clients for a virtual closing.
Register HERE
CREDIT SCORING
Upon completion of this course, the student will be familiar with the Equal Credit Opportunity Act. This course will identify the differences and similarities between the three credit reporting agencies to know what is included and excluded in a free credit report. We will also review how to properly read a credit report, how to spot errors, and who to contact to get those errors corrected. Finally, we will investigate the truth behind many credit myths agents and borrowers have such as, "why all debt is not treated equal" and "closing old accounts will help my credit score."
Register HERE
REAL ESTATE AGENT SAFTEY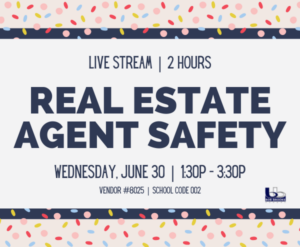 We will review safety procedures for buyers' agents when showing a property and discuss proper conduct should an emergency occur. Upon completion of this course, the agent will understand situational awareness and how to practice it as a part of their everyday business. We will also experiment with different safety gadgets and apps available that can help to create a safer environment for the agents and their clients.
Register HERE
Please follow and like us: