Get ready to supercharge your real estate skills this fall with two exciting CRS courses: "Pricing is Paramount" and "Leads & Listings: Become a Power Lister." Presented by GBRAR, these courses are designed to empower you with the knowledge and strategies needed to excel in today's competitive market.
Learn more about the instructor: Kim Cameron, CRS
📌 Pricing is Paramount:
In a dynamic real estate landscape, accurate pricing is more crucial than ever. Master the art and science of pricing properties strategically to attract buyers and close deals faster. Whether you're a seasoned agent looking to refine your pricing strategy or a newcomer wanting to learn the ropes, this course equips you with valuable insights and proven techniques. Don't miss this chance to refine your pricing game and stand out as a trusted advisor to your clients.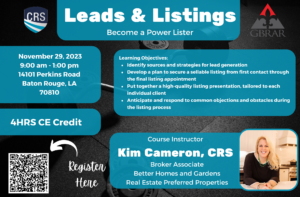 📌 Leads & Listings: Become a Power Lister:
Unlock the secrets of becoming a Power Lister and harness the potential of leads and listings in your real estate journey. This course is designed to empower you with the skills to not only generate a steady stream of leads but also to master the art of listing presentations that win clients over. Elevate your visibility, build your brand, and dominate the listing game in your market. If you're ready to take your career to the next level, this course is your key to success.
🔒 Limited Space Available – Register Soon! Space for these courses is limited, and seats are filling up quickly. Don't miss out on this incredible opportunity to learn from industry expert Kim Cameron, CRS and enhance your real estate expertise. Secure your spot today by registering early.
Please follow and like us: