Tiny Homes, Big Solutions is an innovative solution to homelessness in our area, with great promise to sustainably rehouse fellow Baton Rougeans.
The solution focuses on rehousing the homeless in a dedicated community of tiny homes. A dedicated community allows needed services to serve a centralized population, such as access to healthcare and public transportation. It is also a resource to help end homelessness, serving the needs of the residents by providing a sense belonging and value, with opportunities for everything from AA programs to community gardens
A large committee of dedicated and passionate volunteers in our area has been working diligently for a year and has made significant progress toward making this a physical reality. We would love for you to be a part of this life-changing effort by attending the Tiny Homes, Big Solutions luncheon.
At his luncheon, we will share an exciting announcement and progress updates while guest speaker David Perkes, licensed architect and Professor for Mississippi State University, will speak on the importance of innovative and sustainable housing.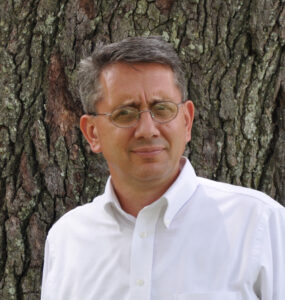 David is the founding director of the Gulf Coast Community Design Studio, a professional outreach program of the College of Architecture, Art + Design. The Gulf Coast Community Design Studio has received multiple Mississippi AIA, and Gulf States Region AIA design awards, and David was awarded the 2017 AIA Presidential Citation. Other awards include a Terner Award for Innovative Housing, an EPA Gulf Guardian Award for the Bayou Auguste restoration project and a Curry Stone Design Prize. In 2011 David was part of a four-person national team to receive the Latrobe Prize from the American Institute of Architects. The prize supported research in Public Interest Practices in Architecture.
Proceeds from the Tiny Homes, Big Solutions luncheon go directly toward fulfilling the mission of creating a sustainable solution to end homelessness in our area.
The Tiny Homes Steering Committee is looking for land with the following requirements; 15-20 acres, high & dry, access to amenities(food and transportation), walkability, within the jurisdiction of the EBR Metro-Council, light business or transitional zoning.
Please follow and like us: