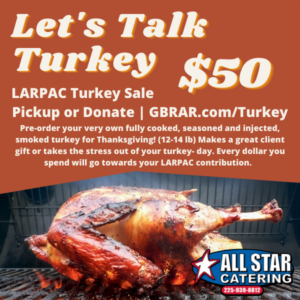 Pre-order your very own fully cooked, seasoned and injected, smoked turkey for Thanksgiving! (12-14 lb) Makes a great client gift or takes the stress out of your turkey- day. Every dollar you spend will go towards your LARPAC contribution.
Turkeys are available for pickup at the association office on Tuesday, November 23rd between 10 am and 2 pm. Any turkey left after pickup time will be donated.
Turkeys prepared by:
Contributions are used for political purposes, are voluntary, & are not deductible for Federal income tax purposes. Any amounts indicated are merely guidelines & you may contribute more or less than the suggested amounts. Neither your membership nor your participation in Louisiana REALTORS® is conditioned directly or indirectly on contributing to LARPAC. You may refuse to contribute without reprisal. The following is sent to the National REALTORS® Political Action Committee (RPAC) to support federal candidates and is charged against your limits under 52 U.S. C. 30116: (1) 30% of all contributions of $1,000 or more made at any time; and (2) 30% of each contribution less than $1,000 until LARPAC meets its Federal Allocation Goal set by RPAC. LARPAC retains the following to support state and local issues and candidates: (1) 70% of contributions that are $1,000 or more; and (2)100% of contributions of less than $1,000 after the RPAC Federal Allocation Goal is met.
Please follow and like us: