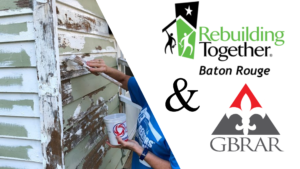 On November 10th, 2022 the Greater Baton Rouge Association of REALTORS® is partnering with Rebuilding Together Baton Rouge, an agency that brings volunteers and communities together to improve the homes and lives of low-income elderly and low-income disabled homeowners. This means more than ever, no matter your skill set, you will be able to make a difference! No experience or skill is needed!
As a REALTOR®, you understand the value of community and of giving back to help make our communities better places.
Please fill out the brief form below to indicate your interest and how you may best be of use for the project. Materials will be provided. Spend an hour or a day or anything in between.
Click here to learn more about Rebuilding Together
Please follow and like us: